Dutch Spice Cookies



MAKES ABOUT 55 COOKIES (depending on the size of the cookie cutters)



2¼ cups all-purpose flour
½ teaspoon baking powder
¼ teaspoon salt
teaspoon ground cinnamon
¼ teaspoon freshly grated nutmeg
¼ teaspoon ground ginger
¼ teaspoon ground allspice (or cloves)
8 tablespoons (1 stick) unsalted butter, softened
cup packed dark brown sugar
large egg
teaspoon grated lemon zest Egg wash:
egg white whisked with 2 teaspoons water until frothy
¾ cup sliced almonds

Thin, crisp spice cookies are ubiquitous at Christmastime in most northern European countries. One particularly popular variety is called speculaas in the Netherlands, speculoos in Belgium, and Spekulatius in Germany. Believed to be named for the Latin word speculum, meaning "mirror," these cookies reflect the image of the specially designed wooden molds that the dough is pressed into. Cookies in the shape of a windmill are probably one of the more familiar designs, but you don't need fancy molds to make these treats. Any shape will do, although I like to use a fluted, diamond-shaped cutter that measures approximately 2 × 3 inches.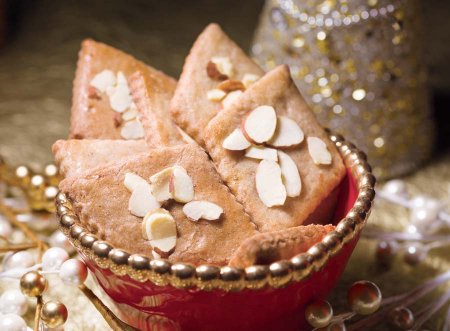 COOKIE CUTTER NEEDED: diamond, square, or round measuring about 2½ inches in diameter
Whisk together the flour, baking powder, salt, cinnamon, nutmeg, ginger, and allspice in a medium bowl.
Using an electric mixer, beat the butter and brown sugar in a large bowl until creamy. Beat in the egg, then the lemon zest. With the beaters on low speed, mix in the flour mixture until thoroughly combined. Gather the dough into a ball, then divide it in half. Shape each half into a disk and wrap separately in plastic. Refrigerate for at least 1 hour.
PREHEAT the oven to 350°F. Line a cookie sheet with parchment paper.
WORKING with one disk at a time, roll out the dough on a lightly floured surface to a ¼-inch thickness. Using the cutter, stamp out diamonds (or other shapes), arranging them about 1½ inches apart on the prepared sheet. Reroll the scraps. Using a pastry brush, lightly brush the egg wash over the tops of the cookies. Press a few almonds onto the center of each cookie.
BAKE for 13 to 14 minutes or until the cookies are slightly browned around the edges and the almonds are golden. (The cookies will crisp up as they cool.) Transfer the cookies to a rack to cool.
STORE in an airtight container for up to 2 weeks; or freeze for up to 3 months.