Cocoa Meringue Kisses



MAKES ABOUT 36 COOKIES


¾ cup confectioners' sugar
1⁄3 cup unsweetened (natural) cocoa powder
large egg whites, at room temperature
¼ teaspoon cream of tartar
½ cup granulated sugar
½ teaspoon pure vanilla extract
Tip: Meringue making and hot, humid weather don't mix, so save these cookies for cool, dry days.

Containing no flour, butter, or egg yolks, these ethereal kisses are a welcome respite from the holiday season's caloric excesses. Baking the wispy dollops of cocoa-flavored beaten egg whites for the time suggested produces a meringue that is gently crisp on the outside and chewy-soft, almost creamy on the inside.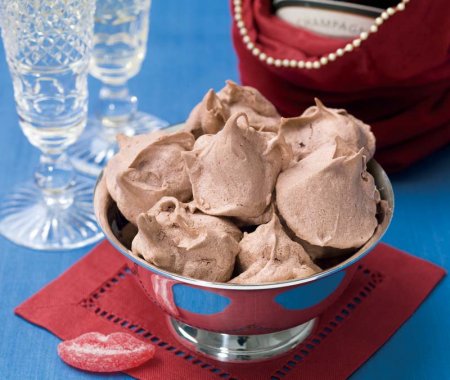 PREHEAT the oven to 300°F. Line 1 or 2 cookie sheets with parchment paper. If using 2 sheets, make sure to have one oven rack at the bottom of the top third of the oven and one at the top of the lower third, so they're separated by at least 4 inches (see page 3).
SIFT the confectioners' sugar and cocoa through a sieve set over a medium bowl.
USING an electric mixer at medium speed, beat the egg whites and cream of tartar in a large, clean bowl until the whites hold soft peaks. Increase the speed to high and gradually beat in the granulated sugar one tablespoon at a time, until the whites are thick, stiff, and glossy. Beat in the vanilla. Using a rubber spatula, gently fold in the cocoa mixture, making sure it's completely absorbed, but don't get stir-happy or else the whites will deflate too much.
DROP the meringue by slightly rounded tablespoonfuls onto the prepared sheet(s), using a finger of your free hand to push the batter off the spoon. The meringues should be about 1½ inches in diameter and at least 1½ inches high with charming pointy, craggy tops; place them about 2 inches apart on the prepared sheet(s).
BAKE the meringues for 25 minutes or until the outside feels dry but the inside is still soft. (Overbaking will produce meringues that are dry and crisp throughout.) There's no need to rotate the sheets. Carefully slide the parchment off the cookie sheet and onto a rack. When the cookies have cooled, gently peel them off the parchment.
STORE in an airtight container in a cool, dry place (but not in the refrigerator) for up to 3 days, but these are best the day they're made.