Christmas Floral Splendor




By Chrissie Harten


Decorate any corner or table for the Holidays with this tall, elegant and cheerful arrangement of flowers in reds and gold. Add your favorite 'Santa Collectible' to spark more festive cheer!
This beautiful and festive flower arrangement is actually a harmonious combination of two arrangements on different levels. Tones of red combined with golden colors give the arrangement a distinctive 'Christmassy' look. The colors give it a traditional look whereas the artificial gold foliage, wicker container and candles lend the whole theme a dramatical look.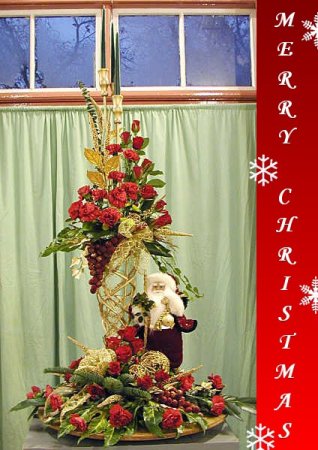 I have used two placements. The lower one is on a circular base and the taller one in a gold-coloured wicker container. Both the arrangements are made using floral foam for the mechanics. Both arrangements used the same plant material given below.

Foliage

Foliage used for these designs was
Dried Eucalyptus
Picea pungens glauca
Fatshedera lizei
Mahonia japonica
Fatsia japonica variegate
Hedera colchica 'Sulphur Heart'
Hedera helix deltoidea

Flowers

Flowers used were
Red Roses
Red Carnations
'Kermit' Chrysanthemums
I have also used some gold artificial flowers and foliage, artificial red grapes, gold wicker spheres, and gold ribbon.
In the top arrangement, I have added three gold candle holders, with dark green candles. This heightens the arrangement further and creates drama.
Finally, to link the two designs together, I have added a figurine of Father Christmas, dressed in red, gold and green - just to add a bit of fun and festive spirit!
Chrissie Harten is a talented Flower Arranger residing in Worcestershire, England.